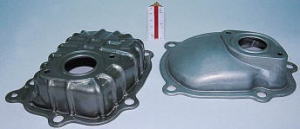 Business contents :
  Press deep drawing.Three dimensional
  pipe bending and end processing
                            Manufacturing items :
  Automobile engines and mission parts,
  motor case parts for automobiles, low
  electricity, etc., and three dimensional
  pipe bending of exhaust/fuel/air system.
 
Main equipment's :
  Hydraulic press of 150 tons, 60 tons and
  30 tons. NC lathes. NC pipe  
  benders. Wire cut.

Technical feauters :
  Being skillful at press deep drawing of
  one cylinder products. Being able to
  process(mainly small articles) up to
  ±0.006m/m of min. inside diameter
  tolerance. The entire process press of V
  shape pully can make drawing possible.


       2504-2,Higashi-obokata,Azuma,
Location mura,sawa,
      Gunma,Japan,379-2223
Representative President Kiyoshi Asano
    Capital 10,000,000yen
  Number of 14 employee
    Phone 81-270-62-7591
      Fax 81-270-63-0285
Establishment 1973

ZERO Create Inc